Optional Fishing Cockpit for the Atlantic Motor Yacht
This is the optional Fishing Cockpit for the Thunder Tiger Atlantic Motor Yacht.

FEATURES: Real wood deck with laser cut panel lines Molded plastic cockpit with steering wheel and instrument decals Separate top with two antennae and lights (non-functional) Attaches to hull with four magnets.




$42.00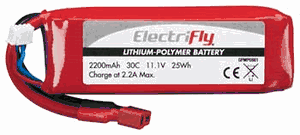 3S 2200mAh LiPo Battery
Lithium Polymer 2200mAh 11.1V 30C Battery Pack with Balance Connector.
$30.00
Duratrax Onyx 150 AC/DC Balancing LiPo Charger
Charges 1-3 LiPo cells only. Compact switching power supply and AC/DC power cords. Switch selectable charge rates for 1-3S LiPo power and radio packs. Sound cues for easy setup and tri-color LED constantly shows charge. status Deans Ultra Plug male connector, Traxxas adapter, and universal radio jack for 1-3S LiPo receiver packs. Ninety minute safety timer. Built-in cooling fan.
$55.00
Onyx 235 AC/DC Advanced LiPo Charger with Built-In Balancer
Charges 1-10 cell NiCd or NiMH (1.2 - 12V) cells and 1-4 cell LiPo Li-Ion or LiFe (3.7 - 14.8V) cells Balancing jack for up to 4 lithium cells Universal jack for charging radio batteries Detachable AC and DC input power cords USB jack for charging music players, cell phones and other accessories Mini USB jack for downloading firmware Custom CC/CV charge algorithm carfully charges Lithium Polymer, Lithium-Ion or Lithium Ferrite-Phosphate (A123) batteries fully and safely Pushbutton controls and audible tones for easy setup and control Precise peak detection with automatic TRICKLE charge fills packs completely for optimum voltage and run time, 3 - 20mV adjustable peak detection helps to customize charger-to-battery performance Built-in banana jacks allow connection with many common charge adapters, an adapter with Kyosho type plug is included Built-in fan for long lasting performance Custom reversed LCD with backlight for easy viewing in any condition shows input and output voltges, peak voltage, charge current, charge capacity and time and more Small lightweight switching AC power supply delivers up to 5 amps of charge current Solid state reverse polarity and current overload safety devices FIVE YEAR warranty through Hobby Services (U.S.A. and Canada only) beginning at date of purchase
$90.00